Tim Cook: here's why Apple banned the Hong Kong protesters' maps app... again
29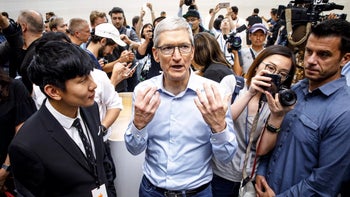 In a "damned if you, damned if you don't" move, Apple's CEO Tim Cook defended the decision to pull down a map app used by Hong Kong protesters again. The first time it
blocked
the HKmap.live app access to the App Store on Tuesday, there was a media backlash, and Apple reinstated it on Wednesday.
Yesterday, however, a
scathing piece
in China's People's Daily newspaper seems to have done the job, and Apple blocked developers' access to the App Store again. Controversy is coming from unexpected places these days, and all of a sudden organizations like the NBA or companies like Apple are finding themselves on the lose-lose side of a trade dispute with China.
For Apple, in particular, China is a complicated matter. It is both one of its largest revenue markets despite the singe-digit share, and the country where iPhone are made. The relationship with China always sits at the top of Tim Cook's agenda and that is why he felt compelled to
comment
on a seemingly minor App Store decision, as if to clarify the matter before staff, here's the memo:
Team,
You have likely seen the news that we made the decision to remove an app from the App Store entitled HKmap.live. These decisions are never easy, and it is harder still to discuss these topics during moments of furious public debate. It's out of my great respect for the work you do every day that I want to share the way we went about making this decision.
It is no secret that technology can be used for good or for ill. This case is no different. The app in question allowed for the crowdsourced reporting and mapping of police checkpoints, protest hotspots, and other information. On its own, this information is benign. However, over the past several days we received credible information, from the Hong Kong Cybersecurity and Technology Crime Bureau, as well as from users in Hong Kong, that the app was being used maliciously to target individual officers for violence and to victimize individuals and property where no police are present. This use put the app in violation of Hong Kong law. Similarly, widespread abuse clearly violates our App Store guidelines barring personal harm.
We built the App Store to be a safe and trusted place for every user. It's a responsibility that we take very seriously, and it's one that we aim to preserve. National and international debates will outlive us all, and, while important, they do not govern the facts. In this case, we thoroughly reviewed them, and we believe this decision best protects our users.
Needless to say, the app developers are not pleased with the decision, and protesters are not buying the explanations which come hot on the heels of other tech companies purging other related apps and even games that could potentially put them on the wrong side of dear leader.
The police in today's briefing used hypothetical language because every observer of Hong Kong protests knows such ambushes have not happened. Tim Cook, in his internal memo to Apple employees, changed this to make it sound as if these attacks on police had already happened.

— Pinboard (@Pinboard) October 11, 2019