Tim Cook: Stop drinking that expensive coffee and you'll be able to afford an iPhone X
99+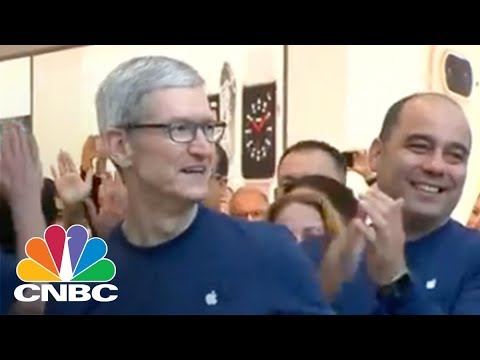 While some consumers might be turned off by the price of the
Apple iPhone X
($999 for 64GB, $1,149 for 256GB), yesterday during the launch of the device, Apple CEO Tim Cook made it sound within reach for many. Cook said that the iPhone X can be found priced at $33 a month using an installment plan. The executive added that this is cheaper than buying a coffee at "at one of these nice coffee places." He also pointed out that iPhone X buyers can save as much as $350 by trading in their current iPhone.
During yesterday's launch of the tenth anniversary model, Cook visited an Apple Store in Palo Alto. Visiting an Apple Store on the launch date of the newest iPhone model(s) is a tradition that the executive has had since being
named Apple's permanent CEO in the aftermath of Steve Jobs' resignation in 2011
. Two years earlier, when Jobs took a leave of absence to undergo a liver transplant, Cook was named
as a temporary replacement
.
So there you go. Tim Cook says that if the Apple iPhone X is too rich for your budget, you can always give up your caffeine addiction and skip the daily trip (or trips!) to Starbucks. This, he says, will leave you with enough cash to purchase the latest and greatest iPhone yet.
source:
CNBC
Recommended Stories