Through the CES cracks: the eInk/LCD dual-screen YotaPhone
4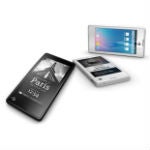 CES is a mad house. It is so big, with so many vendors, and so many products being shown off, that it is impossible to see everything even if you are focused only on one section of it (we completely ignore all of the home theater equipment, automotive, TVs, cameras, and non-mobile PCs). With that in mind, we wanted to tell you about one very interesting prototype device that fell through the cracks: the dual-screen YotaPhone.
The YotaPhone isn't just a powerhouse of a device, but it is definitely interesting, because it is trying something new. If you've followed closely, you may remember that we have always been interested in
transflective displays
, which combine LCD and eInk to make something that is readable in sunlight, great for battery, and still able to reproduce photos and videos well. Those kinds of displays are still a while out, so Yota decided to do the next best thing: have an LCD on the front of the YotaPhone and an eInk display on the back.
The device that was shown off was basically a prototype, and seemed to be geared towards saving battery life, rather than migrating certain tasks, like reading to the eInk display. whatever was on the front screen could be transferred to the back to save batter, and there were a couple apps built specifically for the rear screen, but not many. Yota does plan to launch an SDK so developers can make more apps though.
The front display is 4.3-inches at 1,280x820, and the device was running Android 4.1. Inside was a 1.5GHz Snapdragon S4 Plus, 2GB of RAM, and a 12MP camera.
Yota is talking to US carriers, but no deals have been made. The YotaPhone is planned for release in Russia in Q3 of 2013.