This upcoming Fuze iPhone 7 case offers a 3.5mm headset jack and extra battery life
28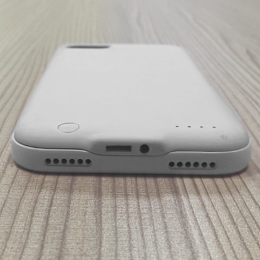 The fact that the
iPhone 7
and
iPhone 7 Plus
do not feature standard 3.5mm headset jacks certainly frustrates some (or many) Apple users. But, hey,
it's not the end of the world
.
Both new iPhones come with Lightning-to-3.5mm adapters in the box, but what if you don't like these, and you also don't want to buy wireless or Lightning-compatible headphones? Well, you may want to check out the Fuze
iPhone 7
case, an upcoming accessory that features a built-in 3.5mm-to-Lightning adaptor. Basically, this case will let you use your standard headphones with any iPhone 7 or
iPhone 7 Plus
without that rather pesky external adaptor from Apple. And yes, the case will let you listen to music while charging your new iPhone.
The Fuze iPhone 7 case can do more than just protecting your handset and offering a convenient 3.5mm jack, as it also includes an extra battery (2,400 mAh for the iPhone 7, and 3,600 mAh for the iPhone
7 Plus
). On the downside, the case is not dust- and water-resistant (like the new iPhones are).
Right now, you can try to get a Fuze iPhone 7 case starting at $59 (plus shipping) via Indiegogo - see the source link at the end of this article. The number of cases available for $59 is limited. Normally, a Fuze case will cost $69, coming in five color variants: black, white, gold, pink, and blue. Fuze plans to start shipping cases to Indiegogo backers in December.
You can check out the Fuze iPhone 7 case in the video below. Mind you, the case is presented by a guy who, at times, is a bit over enthusiastic. Or is he just annoying?
Not long ago, we told you about
another iPhone 7 case
that should
bring back the 3.5mm jack
. However, that one does not include an extra battery.
If you have (or plan to get) an iPhone 7, do you think you'll want to buy a Fuze case for it?
The Fuze iPhone 7 case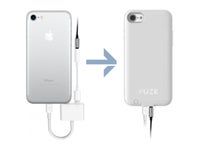 source:
Indiegogo
via
9to5Mac