This might be an upcoming Nokia Lumia smartphone
19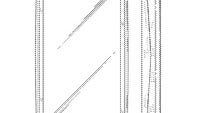 That
Nokia will be holding a press conference at MWC
is something we already know. We're also pretty sure that the Finnish company will be announcing new smartphones at the event. What we don't yet know, however, is exactly what handsets will be announced and what they will look like, but a patent application filed back in 2011 might hold some clues.
The patent for the design of a cell phone has been granted to Nokia on February 5, 2013. Judging by the images below, it is a touchscreen device, presumably a Lumia Windows Phone handset. There is no indication within the patent as to what model are we looking at, so it could be a mid-range smartphone or a high-end model of some kind – your guess is as good as ours. Interestingly, a smartphone looking a lot like the patented design has appeared in a Nokia concept video dating back from 2011. You can watch the video below.
Of course, there is no guarantee that a smartphone designed like this will ever materialize. But on the other hand, this could be either
the rumored Nokia Lumia 520 or Lumia 720
. We'll know more on the matter later this month.