This is what happens when a shotgun meets an iPad
13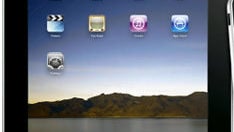 This is what happens when an Apple iPad stares down the barrel of a shotgun that is ready to fire. Check out the video down bottom to see the tablet carnage with your own eyes.
The Apple iPad is shot from behind with this shotgun, which adds a really awesome glass explosion effect, especially in slow motion. So really, it didn't even see it coming.
When the action is shown in real-time, you can see the iPad's screen die in an instant, followed by a cloud of smoke that leaks out of the main hole created by the shell.
Why did they do this, you ask? It is the advertisement for a tax website. Yes that is right, a tax website. Check out the video and leave us your comments (or your own iPad kill stories) in the comments below.
source:
Into Mobile