This inforgraphic tells you how to stop others from spying on you via your smartphone
12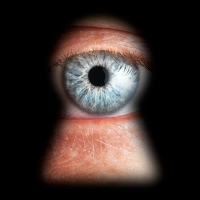 On Thursday, we received an infographic that answers some questions that you might have about who is spying on your phone. Don't tell us that you've never given the matter some thought. And the scary thing is that your privacy can be compromised without you having a clue. According to the inforgraphic, smartphone users are being tracked by government agencies at home, in hotel rooms and while receiving medical care.
It is not just the government that is squeezing information out of your handset. When you go shopping, retailers are using Wi-Fi to track your movement inside stores. They are also looking at the apps on your phone to determine your age, and which demographic you belong to. Want to screw up this system? Load apps on your phone that your kids use. Or, install apps that use a foreign language that you can't read. With the information gleaned from your handset, retailers try to figure out the best way to layout their store. Again, you can mess this up by visiting departments of the store that you normally wouldn't be caught dead in.
The infographic shows you what hackers are doing with the data on your phone, like stealing personal information and identities. In combination with malware, hackers can even take over your phone almost as though it were possessed. To make it harder to be tracked, you can turn off Location Services on your iPhone, and toggle off Frequent Locations and Improve Maps. The former keeps track of the places you like to frequent the most, and the latter uses this info to help improve Apple Maps.
On Android, you can go into Location services and remove the checkmarks from GPS satellites and Google's location services. There are also apps recommended to help you stymie those keeping an eye on you via your phone. In stores, to remain unknown, you should turn off your Wi-Fi, GPS and Bluetooth. In addition, do not allow your apps to collect personal data.
Click on the slideshow to view this infographic, which we have cut into several smaller images for your convenience.
Infographic shows you how to stop others from spying on you using your smartphone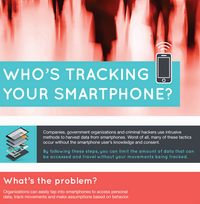 Thanks for the tip!
source:
ContentStaging