This infographic shows how the mobile industry changed over the last 10 years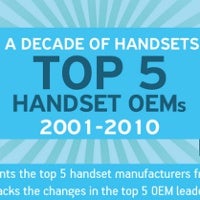 Okay, you might think you knoweverything about cell phones from the early monochrome days ofplaying Snake on your handset to the latest cutting edge smartphones,but one thing has remained stable over the years – the companiesthat make them. Or has it? The infographic below, courtesy ofanalysts from Vision Mobile, shows the stunning growth of a market,which could be slowed down only for a while in the worst days of theglobal economic crisis.
In the early days, the industry wasdominated by European brands such as Nokia, Siemens and theSwedish-Japanese JV Sony-Ericsson, but as time passed Asianmanufacturers and computer makers like Apple replaced them in thehighly competitive field. Siemens was the first victim of thetransition to smarter phones and even companies like Sony Ericssonand Motorola fell out of the top 5 list. Take a look at the graph andfeel a part of history in the making.
source: Vision Mobile