This extremely slim, bezel-less phone looks like a concept, but a big company is actually making it
10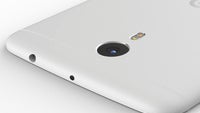 Last week, we were blown away with the three new phones a new comer to the phone industry offered. We're talking about LeTV, a Chinese company that did what Netflix does before Netflix even existed, and the trio of smartphones it unveiled last week.
Now, another new-comer from China is preparing to blow us away with its new smartphones. The company is PPTV, a rival to LeTV, hence - another video streaming media company going mobile.
PPTV has been teasing a new smartphone and these latest leaked renders look like a concept. Yet, according to all the rumors, they are not - the company is indeed working on releasing what you see in the images below.
The PPTV phone depicted is an extremely thin and stylish slab, with a nearly bezel-less construction.
So far, it seems to only exist in pictures (at least that's what the public eye is allowed to see), so we would still take all this with a grain of salt. Nonetheless, it is obvious that Chinese phone makers are upping the ante. LeTV's phones, for instance, will be offered in the United States at some point in the future, and other Asian companies are alos increasing their presence in the west.
source:
Sina Tech
via
GizChina