This battery pack will charge your iPhone 6 from 0 to 100% in a matter of minutes
27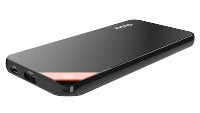 With the likes of Samsung, Sony, and LG making an appearance at expos such as CES 2015, it is easy to forget that the event isn't only about the big boys. Indeed, the floors of CES 2015 at Las Vegas are littered with comparatively tiny companies, all pitching their wears to passersby – the main difference is that they do so from less lavish booths that occupy the corners of the halls, not the center. iPhone accessories maker ibattz is a good example of one such team that has something truly interesting that solves a real problem: iPhones' batteries.
According to our tests, the iPhone 6 needs 147 minutes to fully charge its otherwise smallish, 1810 mAh battery. That's nearly
two hours and a half.
Thankfully, the folks at ibattz have a real solution with their ASAP Charger portable battery packs, which offer 2 amps of current. Whatever the tech, the important bit is this: ibattz promises that either of the two models of the ASAP Charger (a 5,600 mAh and 11,200 mAh one) will restore your iPhone 6's battery to 100% in only
15 minutes.
Yep, you calculated that right – that means 10 times faster than your included charger.
Unfortunately, ibattz isn't yet ready to share pricing and availability information just yet, but unless they go for something crazy, it's probably a good idea for you to keep the ASAP Charger in mind if portable power is on your mind.