This Windows 10-running Nexus 5X keeps the dual-booting dream alive
16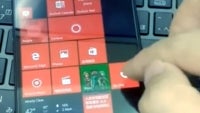 Few things are impossible for a skilled developer with time and determination on their hands. This is how we've gotten to see smartwatches run Counter-Strike, Windows 7, and other software whose presence on a wearable is downright illogical. But Windows 10 (or what could actually be a very elaborate simulation of Microsoft's mobile OS) running on a Nexus 5x surely feels more at home.
The Google–LG masterminded device has all the hardware needed to make an example of the platform. After all, the smartphone is spec'd close to the Microsoft Lumia 950, complete with the same Qualcomm Snapdragon 808 chipset. The Lumia 950, however, has a Quad-HD resolution AMOLED display and more RAM memory.
Unfortunately, we have absolutely no idea where you can get your hands on a Windows 10 ROM or launcher for the Nexus 5x. The operating system hasn't been made publicly available, Microsoft won't be porting it to a non-Lumia device anytime soon (although Xiaomi handset owners
might be in for a surprise
), and the video is ripe with mistification as a whole.
That's too bad, for the Nexus 5x would make for a killer dual-booting Android/Windows handset. The dual-booting concept was picking up steam a couple of years ago, as manufacturers were keen on introducing Android and Windows-running smart devices. But it is alleged that Google and Microsoft put the kibosh on their aspirations, for reasons that shall remain hidden between the walls of their Silicon Valley offices.