This American Life retracts Mike Daisey's story about Apple and Foxconn
11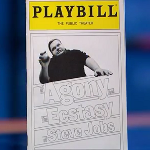 Actor Mike Daisey,
known for his one man off-Broadway show The Agony and The Ecstasy of Steve Jobs
and for his trips to Foxconn factories to report on the alleged mistreatment of workers there, has apparently misled listeners to the radio show
This American Life
and viewers of his monologue
about what he saw and who he interviewed in China
. Ira Glass, the Host of the radio show, said that they found "significant fabrications" in Daisey's work and could not vouch for its truth. This
American Life
is broadcast on public radio to 500 stations in the U.S. and has a total of 1.7 million listeners.
Daisey has admitted that he
never met a Foxconn worker poisoned by the chemical n-hexane
like he claimed on the radio broadcast, which was basically a version of his one man show
.
Daisey also changed some of the monologue of that show in the midst of his disclosure that he fabricated some of his comments about what he observed in China.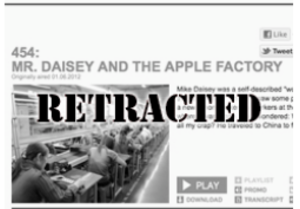 In the latest broadcast of
This American Life
, host Glass said that they
did fact check the story before it was put on the air
, but that their main concern was that the facts were right. Glass said that independent investigations by other journalists, advocacy group studies and audits by Apple corroborated the facts. What was misleading was that Mike Daisy had seen all of the so-called human rights violations.
Glass said that Daisey would not give him a contact number for his translator which might have led to the interpreters side of the story coming out earlier. The interpreter says that Daisey did not view the things that he has been telling audiences about since 2010. For example, instead of the hundreds of people inside the Shenzen based Foxconn factory, Daisey actually talked to about 50 people outside the factory over two mornings. She also denies that Daisey spoke to a number underage workers in the plant, and that
factory guards did not carry fire arms
as Daisey claimed they did. Daisey defends himself by saying that he told the truth "
in a theatrical context
."
You can listen to the actual broadcasts or read a transcript of the last show by clicking on the sourcelink.
source:
ThisAmericanLife
via
TechCrunch