This $1300 rocking chair can charge your iPad
20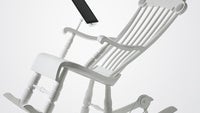 Everyone likes rocking chairs. They are classy, comfy, and their gentle movement can easily send you into a relaxed afternoon nap. But what happens when such a traditional piece of furniture meets modern technology? That is when contraptions like the iRock chair are created.
The iRock looks more or less like a classic rocking chair, but it has been outfitted with a special generator that transforms the rocking movement into energy. That energy can be used to charge an iPad or an iPhone when it is placed on the built-in docking station. Furthermore, a pair of speakers come embedded in the chair's back. According to the people who make it, the iRock will charge a third-generation iPad by as much as 35%, as long as you keep on rocking, of course.
But if you want to get yourself one of these hand-crafted beauties, prepare to part with a cold $1300. The iRock is currently available only in white, but additional paint job options – red, black, yellow, and a striped variant, are to come in the future.
source:
iRock
via
Mashable