These are Samsung's best Exynos-powered smartphones thus far
17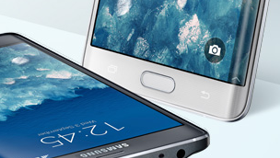 Samsung has been using its own Exynos SoCs inside select smartphone models since 2010, when the company released the very first Galaxy S handset. Since then, Exynos processors became more and more popular, even
powering some non-Samsung handsets
(made by China's Lenovo and Meizu, for example).
But it seems that it's only now, in 2015, when Exynos processors are becoming truly important, as Samsung will exclusively use the octa-core Exynos 7420 to power its next-generation flagship smartphones: the
Galaxy S6
and
Galaxy S6 Edge
, both of which are going to be officially announced tomorrow at MWC 2015.
It's a perfect time for us to take a look at the best Exynos-powered handsets that Samsung launched until now, isn't it? In chronological order:
Samsung Galaxy S5
Announced in February 2014, and released around the world not long after that, the Galaxy S5 is powered by either a quad-core Snapdragon, or an octa-core Exynos 5422 processor (the latter includes four 1.9 GHz Cortex A15 cores, and four 1.3 GHz Cortex A7 cores). The Exynos variant doesn't feature LTE connectivity, but, that aside, it's essentially the same device. The S5 is Samsung's first water-resistant flagship smartphone, as well as the first to come with a 5.1-inch display and a 16 MP rear camera.
Samsung Galaxy K Zoom
Several months after launching the S5, Samsung introduced the Galaxy K Zoom. This one doesn't have any Snapdragon variants, relying only on Samsung's Exynos 5 Hexa 5260 processor, which has four 1.3 GHz Cortex A7 cores, and two 1.7 GHz Cortex A15 cores. The distinctive feature of the Samsung Galaxy K Zoom is its massive 20.7 MP rear camera with 10x optical zoom and Xenon flash.
Samsung Galaxy Alpha
The Galaxy Alpha was released in September last year as Samsung's first Galaxy to be designed around a metallic frame. At the time of its launch, the Alpha was Samsung's thinnest smartphone ever (6.7 mm). There are two Galaxy Alpha variants: one using a quad-core Snapdragon 801 processor, and another one that incorporates an octa-core Exynos 5430 CPU. Both offer the same 4.7-inch 720p display, plus a 12 MP rear camera, 32 GB of non-expandable internal memory, and a small (but surprisingly powerful) 1860 mAh battery.
Samsung Galaxy Note 4
The Galaxy Note 4 is seen by many as one of Samsung's best smartphones ever. Available since October 2014, the Note 4 is yet another Samsung flagship that's powered by either a Snapdragon processor (quad-core SD 805), or an Exynos one (Exynos 7 Octa 5433). Like the Galaxy Alpha, the Note 4 has a metallic frame, but its features are significantly more advanced, including a 5.7-inch Quad HD (1440 x 2560 pixels) display, 3 GB of RAM, and a 16 MP rear camera with optical image stabilization.
Samsung Galaxy Note Edge
Announced at the same time with the Note 4, the Galaxy Note Edge is more of a niche smartphone, since it sports a curved, asymmetrical display. But it's just as powerful as the Note 4, thanks to the fact that it has the same internals - including the same choice of processors.
Samsung Galaxy A7
And here we have the newest Samsung handset to feature an Exynos processor (an Exynos 5430, to be exact, though a Snapdragon 615 variant also exists): the Galaxy A7. Announced last month, the A7 is Samsung's thinnest smartphone to date (6.3 mm), while also being the largest from the Galaxy A series, thanks to its 5.5-inch 1080p display. The Galaxy A7 is not yet widely available, and it might not be released in the US.
Naturally, there are other Exynos-powered Samsung smartphones that were among the best in their class some years ago, but we only included recently released devices here, to keep it all relevant to 2015.