There could be four (yes, four) Samsung Galaxy Note III versions
63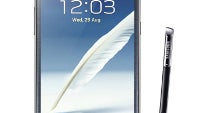 You've heard it all - the
Samsung Galaxy Note III
was first said to feature an unbreakable display, then it was said to have a display larger than six inches, but others
claimed it'd be 5.7 inches
and still breakable. Who got it right? It might just turn out that everyone was right.
The Samsung Galaxy Note III might end up launched in four very different models, according to Korean publication ET News.
Surprised, shocked? Well, don't be. Remember, we're talking about Samsung here, the same company that iterates on the design of its flagship Galaxy S4 to eternity with all sorts of models. Here, there is a slight difference though as we are not talking about different models, but about a single one - the Note III.
The third-generation phablet would allegedly come in a limited premium edition with unbreakable AMOLED screen and built out of premium materials, but you'd also be able to get a cheaper plastic one with an inferior 8-megapixel camera and an LCD display. Here is how it breaks down:
Model 1 will have the following characteristics: Premium materials, 13-megapixel camera, unbreakable AMOLED screen, sold in limited amounts.
Model 2 will have a plastic body, 13-megapixel camera, and regular AMOLED display.
Model 3 will also have a plastic body and 13-megapixel camera, but feature an LCD screen.
Model 4 finally will be the cheapest made out of plastic with 8-megapixel camera and an LCD display.
If true, you definitely wouldn't be able to complain about lack of choice. Keep in mind that none of this is official yet, let's keep our fingers crossed model 1 really exists and Samsung unveils it at IFA 2013 this September.
source:
ET News
via
Android Beat