The world's most powerful Ubuntu smartphone is now available to purchase
27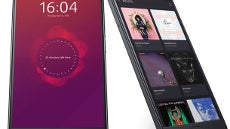 Back in February, it was revealed that the
Meizu PRO 5
would be re-launched
as the world's most powerful Ubuntu Phone
. Meizu and Ubuntu maker Canonical have worked in tandem on several previous projects, though for fans of high-end smartphones running niche firmware, the Meizu PRO 5 Ubuntu Edition is the most exciting yet. Having gone up for pre-order at Mobile World Congress earlier this year, the device can now be snagged at the price of $369.99.
There's no question that the Meizu PRO 5 is a beast—the likes of which the Ubuntu platform has not seen of a mobile device. Under the hood sits Samsung's Exynos 7420 SoC along with 3 GB of RAM, which is slightly less than the 4 gigs found in the traditional,
Android-powered Meizu PRO 5
. The rest of the specs appear to follow the lead of the pre-existing model, however, with a 5.7-inch, 1080 x 1920 display, 21-megapixel rear-facing camera and a 3050 mAh battery pack.
Ubuntu has long been small-time competitor to Microsoft's Windows at desktop level, having established itself as the most accessible flavor of Linux. With Redmond's mobile endeavors
having hit a brick wall
and no sign of
a powerful new Windows handset
any time soon, Canonical's timing couldn't be much better. Mozilla's fringe Firefox OS is virtually dead, too, so those seeking a reasonable alternative to Android and iOS may find this Ubuntu-fied Meizu PRO 5 appealing.
Will you be buying? Let us know in the comments.