Microsoft admits that Windows Phone is not a priority this year
52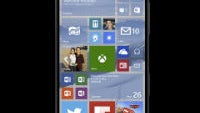 This isn't exactly a surprising revelation. We recently noted that
Windows Phone doesn't matter
right now even though it still has potential to do more in the future. But now, even Microsoft itself has admitted that Windows 10 on phones is not a priority for the company and fans might need to temper expectations.
Windows chief Terry Myerson spoke to
The Verge
after the Microsoft keynote at the Build developers conference yesterday and Myerson admitted that "If you wanted to reach a lot of phone customers, Windows Phone isn't the way to do it." Myerson also said:
We're fully committed to that 4-inch screen, there will be a time for it to be our focus, but right now it's part of the family but it's not the core of where I hope to generate developer interest over the next year. There's no lack of recognition to realize how important that form factor is, but for Microsoft with Windows and for our platform it's the wrong place for us to lead.
Obviously, Microsoft sees the PC, laptops and hybrid devices as the segment where it has the best chance to succeed, which makes sense given that it still holds dominance in the PC market. It's interesting to hear Microsoft admit that it has nothing happening in the phone and tablet space, but it would have been nice to hear some plans on how the company expects to change that.