The trailblazer in mobile payments is…Kenya?
18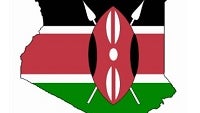 What if we told you half of the world's mobile money transactions happen in just one country? It would be easy to think of an established market, or maybe even China, India or maybe a country along the Pacific Rim. It is Kenya of all places, where 80% of mobile phone owners use them for mobile payment and banking.
In fact, more than 60% of Kenyans that earn less than $2.50-per-day have mobile phones. "The idea of mobile banking was born in Kenya," according to Calestous Juma, Director of Science, Technology, and Globalization at Harvard.
M-Pesa is the service that handles most of these transactions and it is operated by a company called Safaricom which is partly owned by Vodafone. The company launched the service in 2007. Customers add money to their account at any number of outlets located all over Kenya. They then can transfer payments via text message.
Safaricom serves more than 17 million people and about one quarter of Kenya's gross national product flows through M-Pesa. The country's economy has been growing at about 5% per year as well. M-Pesa's success has fueled some of that growth since the service has allowed families to send money from abroad, increasing household incomes in rural areas by as much as 30%.
Because of the technology adoption rate, Kenya's capital, Nairobi, has become a major tech-hub in Africa. M-Pesa's success has also created a number of spin off businesses enabling mobile transactions to pay for public transit, school fees, housing, and connectivity to real bank accounts.
The success in Kenya is a model that Vodafone hopes to duplicate as it expands M-Pesa to India, Afghanistan and Tanzania. If Kenya is any indicator, it shows that developing markets are more than just a potential for revenue growth, but they are also potential technology leaders since there is little legacy technology to box thinking in. Kenya's commerce is proof of building economic infrastructure without traditional barriers that might otherwise slow growth in some areas.
source:
TechRepublic