The smartphone turned 20 years old this weekend
20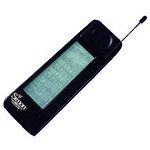 IBM's Simon Personal Communicator was unveiled before the world on November 23, 1992 at COMDEX. Codenamed "Angler" at the time, this nifty device could handle phone calls, contacts, task list, "mail," and third party apps believe it or not.
It was finally released for sale through IBM's partnership with BellSouth (now part of AT&T) in 1994. The Simon was available for $899 ($1,400 in 2012 dollars) on a two-year agreement within BellSouth's 15 state network. Looking at the device by today's smartphone standards does seem whimsical, but the fundamentals are the same, candybar form factor, touch-screen and it was a bit of a battery hog too. Before the Simon was taken off the market, the price had dropped to $599 and BellSouth sold nearly 50,000 units in six months (which is about how long many modern models last today).
Providing the power was a nickel-cadmium battery (it came with two), and processing that power was a 16MHz Vadem CPU. The Simon Personal Communicator was able to provide about one hour of talk time or less. That probably was not such a bad thing, since it weighed about 18 ounces and thus it would be a welcome break to put it on the charger for a little while.
We will not try to guess where the technology will take us over the next 20 years. Given how quickly technology has advanced in the past four years, never mind the past 20, we are certain that any guess we make would be wrong. However, the first smartphone shares much with its contemporaries even at the ripe old age of 20.
source:
Red Ferret