The results are out! Android software updates: how happy are you with your manufacturer?
32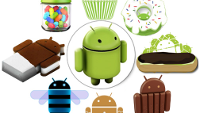 Timely software updates in the world of Android have, as the time has gone by, grown into a full-fledged tool for differentiation between the many manufacturers, and more importantly -- a considerable advantage. In an industry characterized with being at the very wave of technology, any kind of compromise is hard to swallow, and exposes the company behind it to risk. Falling behind on Android, it seems, is a sure-proof way to deter consumers from your products, and there's more pressure than ever for handset makers to keep up. The rise of Google's Nexus-branded line of devices is a monumental testament to that notion. So how did the companies do in the eyes of their backers?
That's what we set out to discover on Monday, and you've answered the call.
The situation is quite grim, according to our readership. Only a quarter (24.39%) of you are satisfied with how well your manufacturer of choice is handling Android updates, which is a rather poor showing no matter how you look at it. In contrast, 41.33% are rather neutral -- its not all bad, but there's definitely room for improvement. Lastly, a significant portion of poll-takers -- 34.28% -- are livid with their manufacturer.
Obviously, we feel obligated to point out that it would be unfair to point the finger solely at the companies behind the products we use -- do keep in mind that your carrier is also a big hurdle on the path to swift updates. New software has to go through extensive testing at, say, AT&T's labs, and that's a considerable deterrent. That said, we're still hoping that a bright fellow at Google will, one day, figure out a way for Android to stay up-to-date across the entire spectrum of devices.