Android software updates: how happy are you with your manufacturer?
85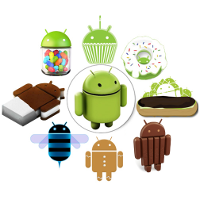 Not too long ago, we made purchase decisions based largely on price, hardware, and brand value when it came to phones. As the years have gone by, however, there's been a massive surge in the importance of software in the overall equation. This is especially valid with Android, the world's largest mobile OS by market share. A side effect of what is otherwise a win, however, is the increasingly nagging issue of manufacturers failing to keep up with the operating system's progress. Pretty much every handset maker spars with the problem eventually, which is also why most companies nowadays offer no more than two years of software updates -- it's just too costly for them to keep on supporting devices that are no longer on the shelves in stores, especially if their sheer number makes your head spin.
But some are better than others. For all the trashing that Samsung takes on a daily basis, no one can deny that the world's biggest smartphone producer has been on top of its game lately when it comes to software updates. On the other hand, rivals like HTC, LG, and Sony, are often on the receiving end of accusations by their very own backers. So what about you? Are you happy with how well your manufacturer has kept up with Android software updates?