The phone of the future is made of plastic and has an HD display
This article may contain personal views and opinion from the author.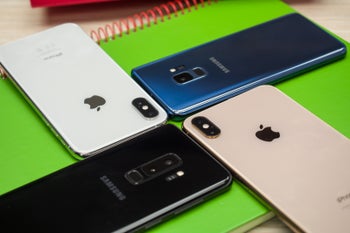 So, in the past few years (or maybe even the whole history of technology) we've been obsessed with having the best phone with the most RAM, the fastest processor, the highest megapixel camera, the more and the better. And it's understandable: we've started with phones that could barely do a thing, with screens that did not look particularly great and with cameras that were... a bit crappy. Now, however, we've reached a point of maturity where most phones, even the cheaper ones are... quite great actually. But we haven't changed: we still want more and more, and better and better. And phone makers recognize that desire and capitalize on that to the point now when gradual improvements are served with a retail price that has skyrocketed in the past couple of years. Just a couple of years the idea of paying $1,000 for a phone was unthinkable and now many people buy such devices without batting an eye.
But that is not what I signed up for. And I think you might have gotten carried away too.
I signed up for a great phone
for me
. I don't want a phone with a Quad HD resolution because there is some person somewhere in the world who is using a virtual reality headset and would notice the difference. I am not that person, and so are most others. For us, that feature is an overkill. Now, before I actually saw those screens a few years back I was as excited as the next tech enthusiast to see the jump to Quad HD and even 4K screens on tiny phone screens, but then as part of my work here, we did some randomized blind tests and saw that 99% of the people really could not tell the difference between a regular Full HD resolution display and a Quad HD one. It made no difference to 99% of people!
The iPhone XR is loved because of, not despite, its lower resolution
What was even more shocking this year was the release of the
iPhone XR
: a phone with a resolution of 828 x 1792 pixels, which is just slightly better than HD. Yes, that is the resolution that we used to have on phones five years ago!
Opportunistic vloggers who had not even seen the phone in person were quick to laugh it off with sarcastic videos, until... a couple of blind tests showed that people could not really tell the difference that much and the overwhelming majority preferred this HD screen over lower-quality Full HD displays.
And what do you get for this "inconvenience"? The best battery life of any iPhone, ever. Do you think people care about that? It turns out that the most loved feature of the most popular new iPhone probably comes thanks to its lower resolution.
Hmm...
Plastic is bad or... is it really?
The second "Aha!" moment that led to the suggestion that I will make in a second was the success of the
Pocophone F1
that broke the mold of sameness with an
unapologetically plastic
design.
Yes, none of that fragile and easily smudged beauty of a glass back, but a durable, practical plastic back. And of course, this is part of what allowed Xiaomi to price this phone at just $350, way less than phones like the OnePlus series that were previously considered the gold standard in terms of a price to performance ratio. (Plus, why do you even care about the back of your phone if you are putting in a bulky case anyway?)
Let's have a practical phone, not a luxury museum item
So here is my open suggestion to phone makers: why not learn from these valuable lessons and create a smartphone that is uncompromising in what matters, things like the processor and the camera, but cut the often detrimental luxury. Why not make a durable phone with a plastic back and an HD display that would certainly crush all others when it comes to practicality and battery life, things that users actually care about?
That would be an interesting combination: imagine a phone that would last you two, even three days on a single charge? Imagine a phone with a well-made plastic back and a practical design that ensures nothing shatters if you drop the phone from one-foot distance... Imagine being able to carry your phone without a case that makes it thick like a tank!
We have cast off some ideas as inherently evil and we have glorified others, but what if we were wrong? What if the future of the smartphone is a practical device that you are not afraid to take with you everywhere and that lasts a few days, rather than a luxury item that you have to wipe clean with a cloth a couple of times a day and be anxious about forgetting to charge it overnight?
Maybe it's time to rewrite our priorities and concentrate on a bit more than meets the eye.