The new Xiaomi Mi 5 camera samples sure look better than the last "shot on iPhone" pic
17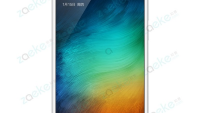 Among the incoming flagship smartphones primed for announcement in the weeks ahead is a high profile, long in the making handset from a company that's not widely familiar outside homeland China. We are talking about Xiaomi and its Mi 5 Android hero phone. If you read the PhoneArena headlines often, you must be familiar with fragments from its story. If not, you can do your reading from the articles we've lined up below.
We admit that the Mi 5 has taken our interest, for it's been an unusually long time in the making, and seems to have everything it takes to play with the big boys - pleasant design, top-notch spec sheet, and a software experience that
Xiaomi apparently took its sweet time to fine-tune
. Too bad you won't be able to walk in a store and buy it any time soon, for it won't be officially sold in the US.
Coming over 18 months after its predecessor, the Mi 5 will be presented at a February 24 media event in China. Although the handset will be demonstrated at MWC in Barcelona, the smartphone won't be sold globally, at least by official retail means. Warming up the crowd for its impending announcement, Xiaomi co-founder Lin Bin posted two camera shots taken with a final unit on his Weibo (the Chinese Twitter) account.
Camera samples are always an interesting occasion, but due to the compression and reduction in size these photos went through, we can't make absolute assessments about the Xiaomi Mi 5's camera qualities. Still, the shots seem nicely detailed, but also unusually dark for scenes shot in a sunny beach setting. We also spot an overt green-ish hue and incorrect white balance. But hey, at least they look better than
that iPhone pic Tim Cook posted a few days ago
. Let's not kid ourselves, though, that's not much of a benchmark, is it? Enough scuttlebutt, here are the camera samples.