The last time a BlackBerry launch was so important, the Storm turned out to be a drizzle
15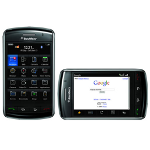 The year was 2008 and the
Apple iPhone
was an AT&T exclusive. Verizon customers were demanding a phone with the same capabilities as Apple's smartphone, but all Verizon could offer them was the
LG Voyager
, a feature-rich handset that was not a smartphone and not the "iPhone killer" that it had been proclaimed to be. Meanwhile, at RIM HQ in Canada, the co-CEO's still considered the iPhone
to be a fad
, something that enterprise-centric RIM would have nothing to do with. Jim Balsillie, one of the two top executives at RIM, held on to his belief that typing on a touchscreen would never replace the kind of physical keyboards BlackBerry was famous for. "
As nice as the Apple iPhone is, it poses a real challenge to its users. Try typing a web key on a touchscreen on an Apple iPhone, that's a real challenge. You cannot see what you type
." Meanwhile, the other CEO, Mike Lazaridis seems as though he was in denial when he stated, "
The most exciting mobile trend is full Qwerty keyboards. I'm sorry, it really is. I'm not making this up
."
Early 2008, rumors that a touchscreen Berry would launch on Verizon called the BlackBerry Thunder. This
eventually became the BlackBerry Storm
and while it would not have a physical QWERTY keyboard, it would have a technology called SurePress that was supposed to
mimic the feel
of pressing on a real button. Expectations were high and RIM produced a series of commercials with each one showing a little bit more of the screen than the prior one. Verizon customers were hoping that this device would be their iPhone and
by the time the phone launched on November 21st, there really was excitement in the air
.
overpromised and underdelivered
. But the problem was the nonchalance attitude of the top executives at RIM. Still believing that touchscreen was a fad, they hadn't bothered to even include Wi-Fi on the Storm. Co-CEO Balsillie even told smartphone buyers to
expect all phones to come out of the box with bugs
.
We do not expect the same thing to take place now. RIM appears to have a focused and capable CEO on its hands in Thorsten Heins. BlackBerry 10
appears to be compeitive in every way
, from what we can see so far. While the BlackBerry Storm experience might have left a bad taste in the mouths of many, the truth is that RIM had to go through it so it could come out the other side looking as it does now. The pressure is higher now than in was in 2008, with the whole survival of the company at stake. Let's just say that RIM survived that Storm and for now, is still around to tell the tale.