Storm gets spec'd, ditches Thunder name in UK, coming GSM only?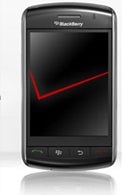 Lots of
Storm
information this morning. First off, a trusted tipster on the Crackberry forums has confirmed final specs for the Verizon version. Though we knew most of this already everything
looks pretty solid to us, especially that browser part which has been a very weak spot for BlackBerries thus far.
Users can expect:
EVDO Rev A: (1900/800 MHz)
GSM/GPRS/EDGE: (850/900/1800/1900 MHz)
UTMS/HSDPA/HSUPA: 2100MHZ
WiFi: None
Size: 112.52 x 62.2 x 13.95 mm
Screen 3.25 " HVGA+ 480x360 Multi-touch, Gesture Touch
Battery: 1400mAh (removable! take that iPhone!)
Memory: 1GB flash for media/ 192 meg ram
Camera: 3.2 MP camera, vanity mirror, no flash
Audio: 3.5mm jack, bluetooth stereo, Rhapsody OTA purchase and tethered subscription capable
Browser: Every feature the IPhone safari webkit has, minus support for tabs. No flash support.
They go on to confirm that the Thunder name appears to be ditched completely, and the device will launch on Vodafone as the Storm as well. This will create a stronger international brand, and in our opinion is a good move that will eliminate confusion.
Lastly is a juicy tidbit that there will be a GSM-only variant, the 9500. Specs on this one are rumored to include:
7.2 mbps HSDPA/UMTS (2100/1900/850 MHz)
Quad-band GSM/GPRS/EDGE (850/900/1800/1900 MHz)
1GB of memory, 192MB RAM
1400 mAhr battery. Standby time: 528 hours
MicroUSB port
MicroSD and MicroSDHC expandable up to 8GB
3.2 megapixel camera, flash, 2.5x digital zoom, auto focus, and image stabilization
Video capture. Normal mode (480×320) and MMS mode (176×144)
Assisted GPS - Enhanced version of GPS that performs at a faster speed
Assuming that clickable touchscreen isn't as bad as we've heard, the Storm family could be the feature device RIM could really use.
source:
Crackberry
,
Crackberry
and
Crackberry