Every time you take a photo with an iPhone, you are actually hearing the shutter sound of a Canon film camera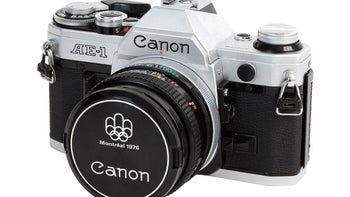 There are a few phone sounds that are recognizable by pretty much every person in the civilized world these days and the sound of the iPhone camera is certainly one of them, on par with the Marimba ringtone and that signature early 2000s Nokia ringtone.
Now, the man behind this and a few other notable computer sounds speaks up to tell the fascinating story of a sound engineer with a sense of humor and the audacity to cheat Apple's own software review system in order to change a bad sound to a new one. His name is Jim Reekes and he worked for Apple in its early days, the late 1980s, when the Mac computers were the company's bread and butter. He was tasked with creating new sounds for Mac computers and most of them he actually made in his living room in San Jose.
How did it all start?
There is an interesting backstory to all of this. The Mac already had some sounds and sound effects coming with it by the time Reekes started working for the company. But there was a problem: when Steve Jobs settled on the name "Apple" for his company, there was already another "Apple" out there, the record label of no other than legendary music band The Beatles. Steve Jobs had promised The Beatles that he would not get involved with music (ah, the irony of this when you look from a contemporary point of view...), but then added audio recording support to the Mac and The Beatles sued.
"The Beatles lawyers started suing because apparently the Beatles didn't have enough money," Reekes explained.
To avoid the litigation, Reekes was tasked to rename and remake every sound that had a musical name to it. One of the sound effects that the Mac used was called "Xylophone", and it also had to be renamed. But what to call it?
"I actually said I'm gonna call it 'let it beep' and of course you can't do anything like that, but I thought yeah, 'so sue me.' And then I thought that's actually the right name," Reekes said. "I'll just have to spell it funny, so I spelled it Sosumi."
This way, one could just claim that the name sounded Japanese despite being just a funky spelling of the words 'so sue me'.
There is a Canon in every iPhone
Reekes is also behind the sound used for screenshots on a Mac. These days, you hear the same sound every time you take a photo on your iPhone. It's that signature camera click.
It turns out, this sound is actually comes from Reekes' old 1970s Canon AE-1 film camera that he bought in high school. The sound comes directly from that camera and it is then slowed down to arrive at its current form on Macs and iPhones.
"Any time you take a photo with the iPhone it's my camera, which kind of freaks me out because, even to this day when I hear people take photos with their iPhone I look to see who stole my camera," Reekes said.
You can see the whole story and learn why Reekes is not a millionaire right now in the video right below.
Meet the man who designed Apple's most iconic sounds from CNBC.