The iPhone plays Flash videos via Java script
This article contains unofficial information.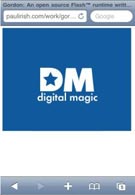 The
iPhone
is definitely one of the best cell phones for surfing the Internet, but unfortunately, its browser cannot visualize Flash elements. This has been one of the major shortcomings of the device that we hope will get fixed in future versions of the software. While waiting, like it or lump it, for Apple or Adobe to get round to solving the problem, we can certainly take advantage of what independent developers offer, because they seem inventive enough to deliver alternative options. The script called "Gordon" makes for an illustrative example - this is a Java-based algorithm capable of turning Flash animations into something that can be recognized and played by the iPhone. Actually, you don´t need to install anything on your device, because the script should be embedded into websites themselves. To watch the short video showcasing the Gordon
here
, you just need to open the link via the mobile version of Safari. We do hope to see webmasters take interest in the script and integrate it into their websites, so the growing number of iPhone owners can enjoy the full beauty of properly playing Flash elements.