The iPhone 8 may come with a dual-lens selfie camera
13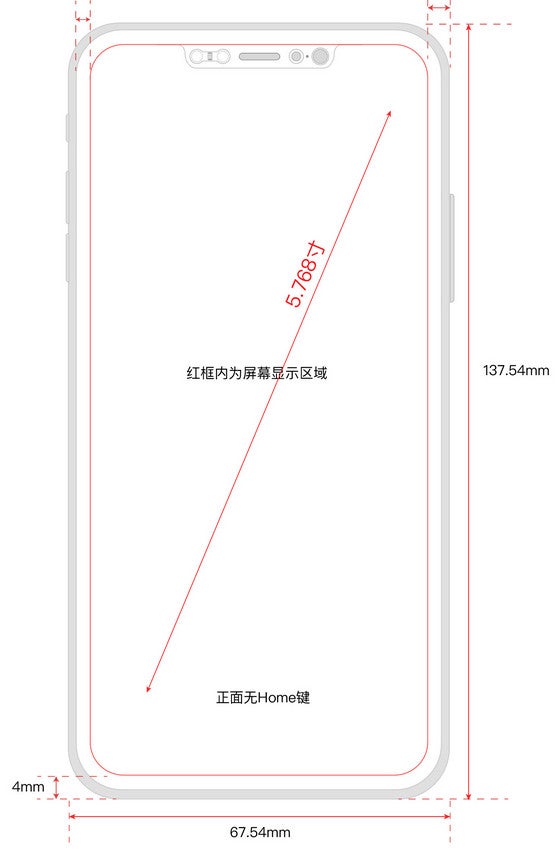 The iPhone 8 may come with a dual-lens front camera indeed, leaked schematics suggest
After the
Wall Street Journal
, as well as
various analyst shops
, published their
iPhone 8
tips in the last day or two, now is the turn of Bloomberg's sources to chip in on what is to be expected from Apple this year. Sadly, there isn't much new info in the report, but it does reiterate that Apple will issue no less than three new iPhones - two with orthodox 4.7" and 5.5" LCD displays, and one with an edge-to-edge OLED panel that will fit a screen slightly bigger than that of the 5.5"
iPhone 7 Plus
, in a chassis not much larger than the
iPhone 7
.
Apparently, Apple has finalized a design for the OLED iPhone 8 with a flat, instead of the rumored
curved OLED display
, just as
Macotakara tipped as well
. There will still be slight curves towards the stainless steel frame, claim Bloomberg's anonymous sources, but those will be of the cover glass, rather than the display itself, and not as pronounced as earlier prototypes have suggested. Apple has even toyed around with a sample chassis that has been as curved as the soapy OG iPhone, but apparently left it on the shelf in the lab. In addition, it is said to equip the iPhone 8 with a vertical dual camera setup that will allow enhanced depth-of-field effects and augmented reality scenery. Also, the new Apple A11 chipset will be done with the trendy 10nm process, promising powerful frugality that may eventually lead to better battery life.
So far so good, all of these tips we have heard already, but what took us by surprise is that Apple may have been testing a dual camera setup for the front cam as well. Given the edge-to-edge display that might be incorporating the earpiece, judging from some
leaked schematics
, it's not hard to see where will Apple fit a dual-lens selfie snapper there, as well as the rumored
face-recognition tech
. Apparently, some remaining features are still in flux, though, even at that late stage in the design process. For instance, Bloomberg reports that the engineers from Cupertino have indeed tried to shoehorn an
in-screen finger scanner
in the area where a virtual home button will be at the bottom of the iPhone 8 display, but those efforts haven't been fruitful so far, so that solution is very much up in the air, too,
just as we heard recently
.
All in all, the 2017 iPhone crop is shaping up to be a very intriguing mix of two phones with legacy design, so as not to spook the Apple loyals who are used to the current chassis, and an OLED device that will give those fans who crave a change something to consider, and potentially attract new blood to the iOS ecosphere. Speaking of iOS, Bloomberg says that the new iPhones will ship with iOS 11 (duh), which will usher in a visual interface overhaul, and that's something to look forward to as well.