The iPhone 6s Plus framerate dropping, and how to fix it (video)
61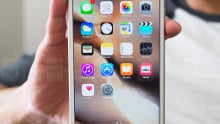 If you look carefully at the video below, you'll notice that the
iPhone 6s Plus
transition animations seem to be set at a slower frames per second pace than the ones on the smaller, lower-res
iPhone 6s
. It looks like Apple's new phablet draws the transitions at 30fps when you do Peek and Pop with the
3D Touch
option, preview photos, or dismiss the Spotlight search screen, whereas the same actions on the smaller iPhone yield noticeably smoother, likely 60fps transitions.
The issue is not something the average user would spot and be worried about, of course, as it takes a trained eye to observe the difference, and even then it's only in comparison with the iPhone 6s Plus's smaller sibling. Now, whether Apple has decided to do this because of the higher screen resolution, so as not to task the chipset unnecessarily, or it simply overlooked the refresh rate, remains to be seen, but some suggest there might be an easy fix if that frame dropping is bothering you, now that you saw the difference in the video below.
The
A9 chipset
is certainly more than capable for any power interface redraws or complex transitional animations you throw at it, so you can head to Settings > General > Accessibility > Increase Contrast > switch on Reduce Transparency, and see if this fixes things for you.