How to adjust the 3D Touch sensitivity on the Apple iPhone 6s and iPhone 6s Plus
23
As much as some love to hate Apple for its policies and company philosophy, no one in their right mind can deny the fact that Apple stood behind some major revolutions in the tech industry.
Although an increasing number of people vehemently claim that Apple stopped bringing true innovation to the market a few years ago, the truth is that Apple's new pressure-sensing display technology opens the way to a new user input dimension.
Debuted this past Spring on the Apple Watch and inherited by the new iPhone 6s series, the 3D Touch system can recognize between a tap, a press, and a hard press. A growing number of iOS apps are now being optimized for pressure-sensitive displays, as app devs both big and small make use of the new hardware to allow for more complex user interaction.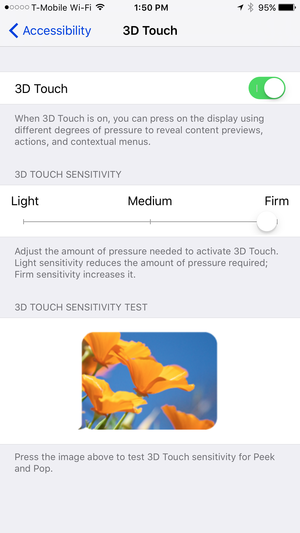 Now, since each user has his own strength and a unique sweet spot for when it comes to force-touching or light tapping the display, Apple has included a way to adjust the sensitivity of the 3D Touch system. Here's how to customize this feature:
Step 1. Go to the
Settings
app on your
Apple iPhone 6s
or
iPhone 6s Plus
.
Step 2. Go to
General -> Accessibility
.
Step 3. Scroll down and tap on
3D Touch
.
Step 4. Select one from the three settings;
Light
makes the display very sensitive to hard presses. Go for the
Hard
setting if your regular touches are misinterpreted for hard presses.
Medium
is the default setting.
Apple conveniently includes small test button. Play with the settings until you're comfortable with the sensitivity of the 3D Touch feature.
Step 5 (Optional). If you don't want to use the 3D Touch system, you can turn off the feature by flipping the 3D Touch switch to the right.
There you go, now you can adjust the 3D Touch sensitivity, or even turn down the feature if you find the extra input dimension to be a bit confusing.