The iOS 11 Control Center disconnects Wi-Fi or Bluetooth, but doesn't turn them off
20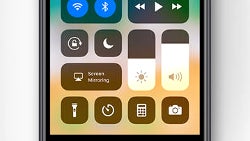 Apple has approached the connectivity toggles in its shiny new Control Center overlay in
iOS 11
a tad differently this time, it turns out. Security researchers are warning that instead of turning the Wi-fi or Bluetooth radios off completely when you tap on the respective switch in Control Center, it simply disconnects whatever gear is hooked up to use the respective wireless standard.
The radios themselves, however, will keep humming in the background in a low-power state. As per Apple, this is done to ensure that some features can be accessed immediately:
In iOS 11 and later, when you toggle the Wi-Fi or Bluetooth buttons in Control Center, your device will immediately disconnect from Wi-Fi and Bluetooth accessories. Both Wi-Fi and Bluetooth will continue to be available, so you can use these important features:

AirDrop
AirPlay
Apple Pencil
Apple Watch
Continuity features, like Handoff and Instant Hotspot
Instant Hotspot
Location Services
The thing is that, even in a standby mode, the Bluetooth and Wi-fi radios are still on, and can be hacked to gain access to your handset or tablet, say security aficionados. Fret not, as Apple says it has provided a way to completely nix the radio emissions by going to Settings > Wi-Fi or Bluetooth, and turning them off via the switch. It's a bit convoluted for the average user who thinks they are toggling the radio off completely when they tap on the Control Center icon, though.