The future is now: Apple Japan has the screen protector applicator widget that you need
18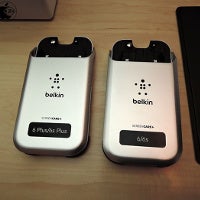 If you've ever managed to muster the presence of mind required for a bubble-free
screen protector
application, and then had the ill-conceived notion that this is information worth sharing with others, you're likely already one of us. Us being the unanimously chosen ones that all your friends and family members now consider the be-all, end-all of screen protector application sorcery—and everything else in between. As if just because we know about smartphones, we'd have a practiced hand with screen protectors.
Anyways, the folks across the Pacific at Japan's Apple Stores have gotten approval for a hot new commodity: a Belkin TrueClear Pro. The gadget is marketed as being the perfect tool for the perfect application of a screen protector, and according to Belkin's respective FAQ section, supports iPhone 4 and up, and Galaxy S4 and S5. Obviously, within Japan's Apple Stores, these are meant for use with the
iPhone 6
/6s and 6 Plus/6s Plus.
According to Mac Otakara, the service costs anywhere between the dollar equivalent of $19 and $37. Given the price, we're guessing that the actual protectors—again by Belkin—are included. Whether this service will be made available in other countries where Apple operates retail location is unclear, but highly advisable!