The future is here: 6 smartphones with curved displays
34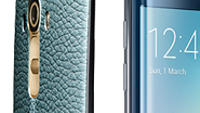 It's been less than 2 years since the world's first smartphone to feature a curved display was released. Even so, most of today's handsets still offer regular, flat screen panels, as these are easier (and obviously also cheaper) to produce.
But curved displays are slowly becoming mainstream, at least when it comes to high-end handsets, and we now have no less than 6 smartphones with screens that are curved in one way or another. As you'll notice, all these curved smartphones have the same country of origin. Let's take a look at them, shall we? In chronological order:
Officially unveiled in October 2013, and released in South Korea later that month, the Samsung Galaxy Round is the very first smartphone to make use of a curved screen. Although several other handsets with curved displays have been released since 2013, the Galaxy Round remains unique, as its screen - a 5.7 inch, 1080p OLED one - is curved horizontally.
Not to be outdone by Samsung, shortly after the Galaxy Round was unveiled, LG announced its own smartphone with a curved screen: the G Flex. This time, the screen was curved vertically, giving the G Flex a more ergonomic shape (it's easier to hold the G Flex to your ear, instead of the Samsung Galaxy Round). The G Flex is a bit larger than the Galaxy Round, as it sports a 6-inch 720 display. Moreover, it's definitely worth mentioning the fact that the screen of the G Flex is not just curved, but also flexible (just like its entire body).
In September 2014, almost one year after releasing the Galaxy Round, Samsung announced its second handset to offer a curved display: the Galaxy Note Edge. This is another unique device, thanks to the fact that its Quad HD screen is curved only on one side. If we ignore its asymmetric design, the Note Edge is similar to the Galaxy Note 4, thus being one of the most powerful extra-large handsets to date.
Released in early 2015, the G Flex 2 is smaller, yet better than the original G Flex. Its 5.5-inch curved and flexible display offers a 1080 x 1920 pixel resolution, while other improvements include 3 GB of RAM and an octa-core Snapdragon 810 processor.
The Galaxy S6 edge is the fancier, more expensive version of the regular Galaxy S6. Both handsets were announced by Samsung in March this year, and can be purchased since earlier this month. The screen of the S6 edge is curved on both its right and its left side, arguably making the handset look better than the Note Edge. A true powerhouse, the Galaxy S6 edge offers plenty of advanced features besides the 5.1-inch Quad HD display, including a 16 MP rear camera, an octa-core Exynos 7420 processor, and up to 128 GB of internal memory.
Finally, here we have the latest handset to sport a curved display: the LG G4, which was announced this week. Although it's curved in the same way as the G Flex and G Flex 2, the curvature is less noticeable. The G4 is LG's current flagship smartphone, and you can
find out more about it here
. While all the other devices on our list are already available to buy, the LG G4 will not be released before the end of May (and, if you're in the US, you'll probably have to wait until June to get one).
How come all these curved smartphones are made (or at least designed) in South Korea? Well, both Samsung and LG have subsidiaries that manufacture their own displays (Samsung Display and LG Display, respectively), so they had the time and the know-how to experiment with various technologies and manufacturing techniques before being ready to mass-produce curved screens. But we're pretty sure that other smartphone makers will soon launch similar handsets, and we're looking forward to seeing what the future holds in this regard.