The evolution of Nexus: 5 years of change
40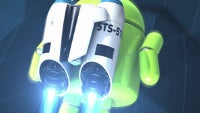 Google has taken us on quite the journey with its Nexus smartphones in the past five years. It all started in January 2010, two and a half years after Apple introduced its iPhone and changed the phone landscape. The first member of the family was the
Nexus One
, a device that set a trend with a surprisingly large for the time 3.7-inch display.
Looking back you might find it funny that screens that size were considered large and remembering how people got excited about a single-core 1GHz chip might also seem strange from today's viewpoint.
Just that would tell you how quickly we've evolved from there. It is that evolution and the trends in it that we want to focus on here: to spot what Google has focused on keeping and changing in these years, in both devices, Android software and price.
The Google subsidy - a high-end phone for half the price
A Nexus phone has not always been an affordable phone. Sure, it was a bit more affordable than flagships, but far from the level it is today - the
Nexus S
for instance launched priced at $529 unlocked. Fast forward a couple of years, and the single most-important feature that makes Nexus phones so enticing now is without a doubt their price. Sold for half the price of flagship smartphones, yet still packing top-shelf hardware, the Nexus lineup is an extremely seductive device for those who are on a budget. Behind this all is without a doubt a huge subsidy by Google on every handset - you can rest assured that neither manufacturers, nor Google made much profit out of the $299 Nexus 4 (even less so after its price dropped to $199).
The drastic price cut only first started with the
Nexus 4
, and now the
Nexus 5
continues with that trend. Still, the low price is not universal. You can get the low-priced Nexus on Google Play store's devices section, but that section is only available in less than ten countries (the United States and other first-world nations). In all other places, the Nexus smartphones are sold with a slight premium. They are still noticeably cheaper than flagships, but not half the price.
With the Nexus 5 coming at its affordable price, it's clear that we now all expect Nexus smartphones to be cheap.
Google's stand against carrier monopolies - selling unlocked
Google is not directly standing against the two-year subscription model that many have proclaimed to be a slavery to the operator, but by selling unlocked and contract-free devices on its own store, the company is definitely making a stand. Buying a device separate from a carrier is a common practice in a lot of countries, but it is the United States that Google is trying to change and that's where 2-year contracts are ubiquitous.
The idea has been there from the first Nexus One, but Google elevated it to another level when it launched the
'Devices'
section in its new unified Google Play store and the Nexus 4 was the first to be sold there.
The final frontier - cameras
Nexus smartphones have always had the cutting-edge performance and the geek appeal, but ever since the Nexus One appeared, no Nexus could claim a camera that would be on par with the latest flagships. The Samsung Galaxy Nexus was a great device, but its camera was lackluster, and the Nexus 4 also disappointed with its sub-par camera.
Put simply, this has been the final frontier for Nexus smartphones. With the Nexus 5 Google has finally made one big step to arrive there. The Nexus 5 features an 8-megapixel camera with optical image stabilization, and it aims to deliver great performance in both regular conditions, but most importantly in dim-lit situations. The first camera samples we have seen do show some progress, but we'll definitely need more time to draw a final conclusion whether the Nexus 5 brings Google past that final barrier.
4G LTE finally
If the camera was the final frontier, 4G LTE seemed like a strange omission on the Nexus 4. In a time where nearly all top smartphones featured 4G connectivity, the Nexus 4 remained stuck with 3G networks. With the Nexus 5 this issue is now fixed as the handset supports a wide range of LTE bands, compatible with a lot of carriers across the globe.
Good news is that from now on there is no going back, and support for 4G LTE will only continue to improve in future Nexus handsets.
Google's stand against microSD cards
The first Nexus One was the only in the family to feature expandable storage. Since then, Google has taken a stand against having microSD card slots. Luckily, it's not mandating it across the whole Android ecosystem, but all later Nexus devices only their built-in storage.
The idea behind all this seems to be to encourage customers to use cloud services (Google's cloud preferably) more. The company has had one of the best cloud solutions out there, and with the launch of its Play music streaming service, there is less need to store tons of music on the built-in storage. The Nexus family has thus evolved to not support microSD cards and is likely to remain this way.
Conclusion: looking to the future
Google has fixed almost everything there was to fix with the Nexus lineup and adorned it with an irresistible price. If you don't shoot for absolute perfection, the Nexus 5 seems like the best value for the money right now and finally it seems to have got it all. Here's a thought that crosses our mind as we write this - while phones will undoubtedly continue to evolve, it seems that we have reached a point where all big problems are solved and we're ready to look into a radically new category now that everyone has a smartphone in their pockets. Is it watches, is it glasses, or is it something else? We would expect to see all and everything next year. The stage is set.
Recommended Stories