The cutest wireless charger award at CES 2018 goes to... iOttie
10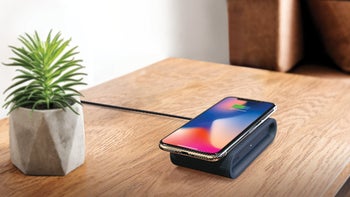 Buoyed by
Apple's adoption of the Qi wireless charging standard
, accessory makers big and small have inundated CES 2018 with their pads, stands and sans-cable paraphernalia. Belkin introduced a few hockey pucks in different colors, for instance, but the cutest charger at the expo must be iOttie's new iON Wireless Fast Charging Pad that is coming our way this quarter.
Clad in cloth, it is as inconspicuous and stylish as a wireless charging pad can be, and will look great on your desk available in five different colors to mix and match. The design doesn't take much space, and iOttie's creation sports a modern USB-C port for topping up, an extra USB output port and silicon pads for extra traction, but no distracting LED lights to speak of.
Moreover, the Qi charger can output up to 15W, so it can charge all popular phones that support the standard, like the
Galaxy S8
or
iPhone X
, at full speed. IOttie is still mum on the pricing, but it shouldn't be long before we know the final tags. Do you like what you see here?