The commercial smartphone turns 20: here are 20 trailblazing smarties
40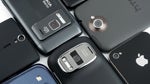 IBM's Simon,
long referenced as the first smartphone
, went on sale to the general public on August 16, 1994, meaning that the commercialized smartphone just turned twenty, inducing some nostalgia and the need for retrospection. Man is a social animal, and ever since the invention of this information highway called the Internet, we wanted to carry it with us everywhere we go, complete with all the tasks we are used to do on our computers. There have been numerous efforts to do just that, from the first IBM Simon or Nokia's Communicator series, through the various Windows Mobile handsets, to the iPhone and Android launch, and everything that followed.
Nowadays we can firmly say that smartphones have fulfilled that goal - we can be always connected, and barely need a computer for our everyday communication needs anymore, thanks to the gear in our pockets. Moreover, they are our go-to cameras, organizers, media consumption, and lately even biometrics devices, executing yet another dream - to have a compact Swiss Army knife device that does it all, folded in a mobile form.
It wasn't always like that, though, and the quest to get where we are now might seem long and hard when we look at the labor pains of the smartphone, yet 20 years is a blip on the radar in historical terms. It is amazing how far the demand for an always-on and always-connected life has taken us in just two decades, and to celebrate the anniversary, we are rounding 20 of the handsets that made it all happen. The list is by no means exhaustive, but in their own unique way, each of those was a building block on which others stepped to get to where we are now. Did you own any of these back in the days?