Did you know what was the first smartphone ever?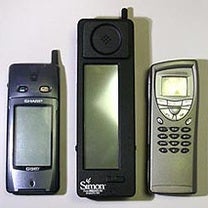 Smartphones are on their way to becoming ubiquitous – everyone seems to have one already. What's more, there are no signs indicating that their popularity is to decline anytime soon. It wasn't always like this, of course. In fact, the term "smartphone" didn't even exist until the late '90s. That was a time when smartphones could only do a small fraction of the things that their modern counterparts are capable of. Still, as primitive (by today's standards) as they were, they paved the way for a number of influential, game-changing mobile devices to follow. Curious to learn more about the very first smartphones? Alright, then let's rewind back to a few decades ago and see how it all began.
The first "smartphone" concepts
The IBM Simon
In a nutshell, the IBM Simon was a cellphone with PDA features – something that business users must have been very excited about. The Simon offered utilities such as a calendar, a world clock, and an appointment scheduler, it could send and receive emails, it could exchange faxes over its 9600-bps modem, and it was even technically capable of running third-party applications stored on a memory card or on its 1MB of internal memory. That relatively huge screen in its front is a monochrome, backlit touchscreen with a resolution of 160 by 293 pixels. Using the handheld's stylus, one could draw sketches and input hand-written text, although our guess is that the accuracy of the latter feature was underwhelming.
Over 50,000 units were sold in the U.S. until February 1995, when the carrier discontinued the Simon.
The Ericsson R380
Unlike other smartphones at the time, the Ericsson R380 was about the size and weight of a typical cellphone. It weighed only 164 grams, while the Nokia 9210 Communicator, in comparison, was a 244-gram brick. Its form factor also made it an interesting device. The R380 featured a standard numeric keypad that revealed a spacious resistive touchscreen when flipped open.
Feature-wise, the Ericsson R380 came loaded with an arsenal of organizer functions, such as a calendar, a to-do list, a world clock, voice memos, and a contacts manager. It also featured an infra-red port for exchanging data and offered a built-in modem for accessing the internet via the phone's WAP browser. Exchanging emails back and forth was also in its feature set. However, as advanced as it was for its time, the R380 could not have additional apps installed on it.
And these, guys, were the first smartphones that the world saw. We've come a long way since then, haven't we? Drop us a line in the comments below if you agree.