The best LG G8 deals from T-Mobile, Verizon, Best Buy and AT&T - get paid to own the G8
3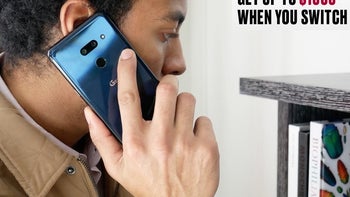 It is an understatement to say that LG priced the
G8 ThinQ
right in the world's most visible cell phone marketplace. Yes, America, you are getting a phone with the latest Snapdragon 855 processor, 1440p resolution Crystal Sound display, 128GB storage, dual camera set and Face ID-style unlocking in a premium compact body that not many phones can boast with these days, all for $619.99.
That's the lowest retail price we could find, but there are further discounts even. This is way lower than the
Galaxy S10e
price at launch, and bordering on a Chinese flagship tag, but from the third best-selling brand of phones in the US.
What if you could have the LG G8 for even less? We scouted the best deals and carrier promos to prep you for when the G8 launches in two days, and some of these could really make you pull the trigger.
LG G8 128GB deals
T-Mobile

50% off (up to $310 in bill credits over 24 months)

Verizon

$350 off when you switch or add a new line
$200 more off if the switch is on Unlimited plan
$450 in trade-in offers (iPhone 7, Galaxy S8, Pixel 2 and above)

AT&T

Free (w/ new service plan of at least $50/month, up to $830 in bill credits over 24- or 30-month period)
$200 AT&T Visa Reward card if you order online
Free BodyGuardz Pure Arc curved tempered glass screen protector

Sprint

Lease for $15/month for 18 months
Free $150 Mastercard prepaid account with an accessory purchase

Best Buy

$10.83/month ($260 total) with a new line or account on Sprint + 3 months of free SiriusXM
The best deal on the LG G8 ThinQ goes to AT&T's offer of free
In addition to all of the promos above, you will get LG's free second year of limited warranty for free, as long as you register the
G8 ThinQ
on LG's website. The best deal on LG's newest phone, however, goes to AT&T that will give you the phone for free as long as you sign for at least a $50/month plan, and will throw in $200 extra in a Visa card, plus you will have a free tempered glass
screen protector
for the phone from the get-go.