The alarm clock on your Apple iPhone stopped working starting today, will fix itself on January 3rd
17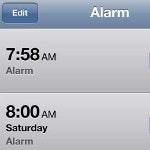 While unclear whether or not this is a bug belonging to iOS 4.
2.1
or an earlier build, it seems that as soon as the date changed no matter where you live to 1/1/11, "one off" alarms set on the iPhone alarm clock became disabled and new alarm settings will fail. This is similar to the problem
we reported
that disabled the alarm clock on Apple's touchscreen handset when Daylight Savings Time ended in the U.S. and Europe. The difference is that the DST bug affected repeating alarms while the new problem deals with alarms set for a single day, the "one off" setting.
Until Apple deals with this via a maintenance upgrade, there is a way around the current problem. Simply set the alarm clock to wake you at the same time for recurring days and once you are up and ready to face the world, delete the unnecessary alarms. Sure, it is a little hassle, but it will probably take you less than a minute to make the correction each day.
**UPDATE**
According to 9to5 Mac, some testing shows that the problem will self-correct on January 3rd which means that you will need to do the above temporary fix for only for a couple of days. It was also reported that those with an Apple iPhone running iOS 4.1 were having the same problem with the alarm clock on their device.
source:
Engadget
,
9to5Mac