A bug in the iOS recurring alarm causes DST troubles in Europe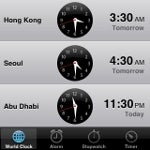 How does it feel when your shiny new iPhone wakes you up an hour later than planned? Well, according to many European owners, not that great. It seems that the clock adjusted for the Daylight Savings Time, which brought it an hour earlier at 4am on Sunday, but some alarms rang at the old time, causing all sorts of troubles. One-time alarms, or alarms set at "every day" don't experience the issue, so if you have anything different set up, you have to manually change the hour.
The same thing
happened last month
when Australia and New Zealand moved their clocks, but Apple didn't roll out an update. It will be interesting to see if they fix it by November 7th, when the whole of US does DST. The guy who has decided to introduce the adjustment Saturday against Sunday, has certainly been a clever one, as most users have caught their iPhone's shenanigans on Sunday. We can imagine the sort of havoc your phone's nonchalant behavior towards DST could bring on a weekday.
via
Engadget