The Tonino Lamborghini 88 Tauri is a beastly phone with two active LTE SIM cards aboard
16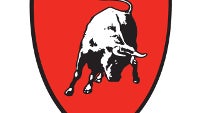 Tonino Lamborghini, a company that is founded by the son of the creator of the Lamborghini super car concern and manufactures all kinds of luxury products, is known for some of its highly-priced smartphone endeavors, most notably the
ultra-posh $4,000 Tonino Lamborghini Antares
. Most of its phones emphasized on extravagant build materials (hence the price tag), but it now seems that Tonino Lamborghini might have an Android smartphone with nothing to be ashamed of in the hardware section.
Meet the Tonino Lamborghini 88 Tauri, a device that will reportedly hit the shelves soon. Well, frankly said, its design won't appeal to just anyone, but just like super cars, the "hardware" under the hood matters the most. The Tonino Lamborghini 88 Tauri is rumored to come a quad-core Snapdragon 801, running at 2.3GHz, the respectable amount of 3GB of RAM, a 5-inch 1080p display with an oleophobic coating and an accurate 10-point touch panel. A 3,400mAh battery at the back promises to keep the lights on for up to 1,000 hours in standby mode. A 20MP rear camera and an 8MP front-facing selfie snapper have also been thrown in the mix. Android 4.4.4 KitKat will be the OS of choice for the device.
Among the more interesting entries in the specs sheet of the LTE-enabled 88 Tauri are its two SIM cards slots. Both of them are active simultaneously and allow you to make use of your LTE data with one of the SIM cards while you are using the other one for a causal LTE call. This functionality has been baked into the latest iterations of Qualcomm's chipset muscles, yet few devices have made use of it.
The Tonino Lamborgini 88 Tauri will be available in limited quantities in early 2015. We have heard nothing about the pricing of the device just yet, but it will probably bear a 4-digit price tag along with it.