The Sony Xperia Z4 could be rebranded as the Xperia Z3+ outside Japan
30
While rumors suggest that the
Sony Xperia Z4
is intended to be
exclusive to Sony's home market of Japan
, a recent leak reveals that the smartphone could be re-branded as the
Sony Xperia Z3+
for international markets. The news comes as the official white paper for an official Sony Xperia Z4 accessory called the "Sony SCR30 Style Cover Window case for the Xperia Z4" lists two devices as being compatible with it. The first is the Xperia Z4, and the second is a currently-unannounced smartphone called the Sony Xperia Z3+.
This could mean that the Xperia Z4 as we know it today will never make it outside Japan, and that that a slightly modified version will be branded as the Xperia Z3+ at the global level. Alternatively, Sony could be working on a separate smartphone called the Xperia Z3+, but seeing as the Z3+ and the Z4 are both compatible with the accessory, then the differences between the two devices should be minimal. It looks like Sony took down the white paper from its official website in the meantime, but the Google cache page still points out to the information.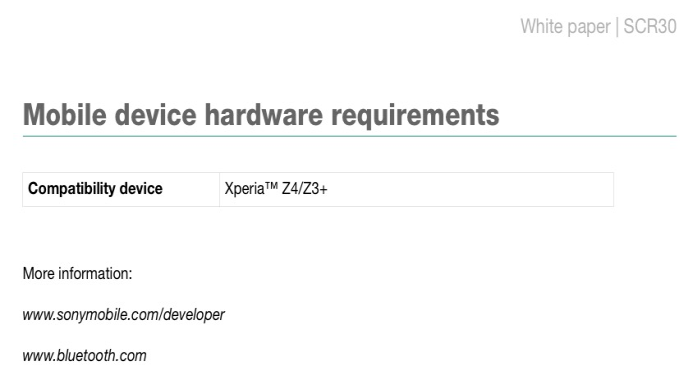 Last week,
Sony announced the Xperia Z4 in Japan
, keeping mum on a potential international release of the smartphone. The very same day, the rumor broke that Sony plans to release
another flagship smartphone
for international markets. Building on this train of thought, a new Sony smartphone, the Xperia P2, was recently leaked online with
flagship-level hardware specifications
.
The Sony Xperia Z4 comes with minimal updates over last year's
Xperia Z3
, at its turn a minor refresh over the
Xperia Z2
. Although the Sony Xperia Z4 is certainly one of the best-specced Android smartphones currently out there, many fans were left
wanting for a more substantial update
.
Recommended Stories