The Sony Xperia Z3 survives several crash landings in this drop test before shattering
30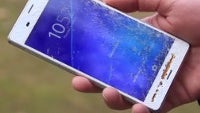 When it comes to our smartphones, many of us don't shy away from slapping a less-than-attractive case on top just to protect them form what feels like an inevitability – sooner or later (usually sooner), you
will
drop that phone, and if you're unlucky, it'll be all kinds of messed up.
But when manufacturers like Apple, HTC, and Sony are working as hard as they are to introduce fancy-looking, thin flagships, we do have a dilemma at our hands – do we still add that layer of protection in the form of a case, or do we go "commando" in order to appreciate our buy as much as possible? It's up to you to decide, but if you plan on going without a case, the below drop test will give you some idea as to the kind of structural endurance you can expect from the
Sony Xperia Z3
. It's rather lengthy and it is in a language foreign to us, but that won't stop you from extracting the gist of it. In this case, it's fair to say that the Xperia Z3 is plenty tough, all things considered.
Take a look!