The Slate Gray OnePlus 5 is now available with 8GB RAM and 128 GB storage
7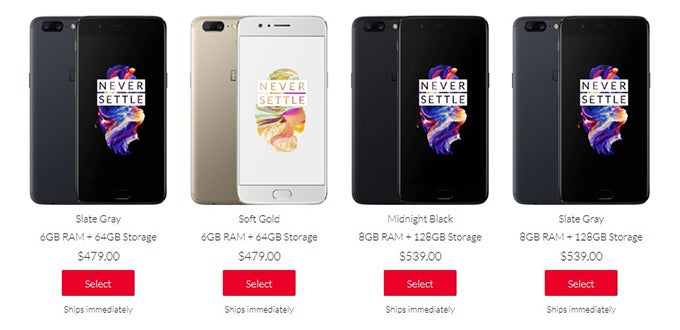 OnePlus made an interesting choice with the
5
— it produced two differently specced variants of the device, and then made both exclusive to a specific color option. Thus, the Slate Gray variant was cheaper and offered 6 GB of RAM and 64 GB of storage, while the Midnight Black one was more expensive, thanks to its 8 GB of RAM and 128 GB of storage.
The new option seems to be available across all regions where OnePlus operates, and costs the same as the Midnight Black one — $539 in U.S. currency. So those of you who hev been restlessly waiting out on this particular color/specs combo before making their purchase may now breathe a sigh of relief, right before slamming the 'buy' button.
And with this addition to the OnePlus 5 lineup, we're curious to see whether the Slate Gray color option will remain
users' least favorite one
, as the better specs may give it a bit of a push in the ranking. And as for the Soft Gold variant — OnePlus has thus far stayed mum on whether it will get the 8/128 GB treatment as well, though we're certainly hoping it does.