The Samsung Galaxy Tab is apparently all about being placed in a back pocket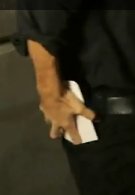 During
Samsung's media event last week in New York City
for the Galaxy Tab, Samsung's very own Omar Khan showed how easy it was to slip and conceal the 7" tablet in a pocket. And now, we're beginning to somehow realize that Samsung is going to do its best to market the Android powered tablet as something that's pocketable.
Case in point with this new video advertisement about the Galaxy Tab where it not only talks about all of the rich features it has to bring to the table, but even shows twice how it can be simply tucked away in the back pocket of our pants without any worries. However, these pockets in the video seem to be wider and deeper than others just because it easily accommodates the Tab's figure with no problems. But still, it's hard to say if Samsung is indeed trying to tell us all that we can simply place this device, which isn't exactly a smartphone friendly sized device, so smoothly into our back pockets.
Still, we'd imagine that there would be some people upset if they accidentally sat down with the Tab still loosely moving around in their back pocket. So there goes one hefty piece of technology reduced to something that's just another paper weight.
Samsung Galaxy Tab Specifications
|
Preview
via
Gizmodo