The Samsung Galaxy S 4 can double as a gaming console
52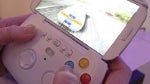 The other day, we showed you the Samsung Game Pad accessory, but not for the reason that we are bringing it up tonight. Back then, we wanted to point out how
the description of the pad mentioned that it would be fit screen sizes up to 6.3 inches
which just so happens to match the alleged screen size for the Samsung GALAXY Note III.
With the Game Pad you can replace your console with the
Samsung Galaxy S 4
, using the HDMI port to connect it with your television or monitor. The controller uses Bluetooth to connect with the phone. When you're on the go, you can slip the handset into the Game Pad in landscape and play
on the run
. The accessory looks like a small Xbox360 controller "
with dual analog sticks and shoulder, D-pad and four face buttons
." It is powered by two AAA batteries.
The Samsung Game Pad will be available in May for an undisclosed price. The controller will be bundled with 8 games and 80 Android games will be ready at launch.
source:
Forbes