The Loop case for iPad employs premium materials for a design of unprecedented freedom
7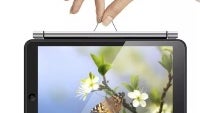 There are times and places where your hands are so full that being able to simply hang your iPad somewhere and enjoy it is not only the most convenient option, but also the hardest to have. And there is no case or holder out there that is universal enough to allow for that, and other usage options.
The case with cases is that if you can mount it or use it one way, you probably won't be able to use it another way. So, here's a case that wants to challenge the status-quo. This is the Loop iPad case by Mozzic - a high quality smart cover secured with magnets, and with an integrated system for hanging.
A 'system' for hanging, you say? How is that any more complex than a simple coat-hanger? Well, the implementation is worthy of being named a 'system', because it has a retractable steel cable running through the case's top, which is made of stainless steel alloy. This is how far Mozzic went to ensure your iPad will hang securely. And the rest of the case's composition is equally impressive - it has a segmented leather surface with microfiber liner that flips over and folds in two places to offer two viewing angles. Meanwhile, the tablet housing is made of glass-filled polycarbonate with two groves to make positioning easier. The front latches magnetically to the back side, so the case won't crumble under the iPad's weight when it's folded.
Overkill? We don't think so.
The combination of folding and hanging lets you hang the iPad in sensible places such as the back of a seat in a bus or airplane, or against a kitchen wall, and still get a proper viewing angle. Flip the flap, angle it so it rests against the surface, and hang it. How come nobody ever thought of this before?
Loop is on Kickstarter and it has ways to go before it gets to its steep $110,000 goal. The money will go towards supplying enough authentic leather, machined aluminium, steel, and glass-filled polycarbonate to manufacture and ship 2000 units. Overkill? We don't think so, as Loop goes for the 'premium' quality that Apple customers are accustomed to.
Recommended Stories