The Lenovo Yoga Pro 3 dances circles around the Apple MacBook Air in Microsoft's new ad
27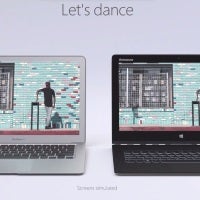 Microsoft's latest killer weapon against its ongoing war with the MacBook Air is not the Surface tablet, but rather the new Lenovo Yoga 3 Pro. The two are put one against the other in an amusing ad that highlights the one's weaknesses and the other's strengths by making them participate in the ancient ritual... of dancing. Going with the rhythm, we get to see how the MacBook Air is 16mm "thick" while the Yoga 3 is 13mm "thin", how Apple's ultra-portable cannot land the Yoga 3 Pro's "tent" move, how it cannot ever be a tablet, and how it doesn't have a touch screen.
These are fair arguments when you think about it. Then again, the Lenovo Yoga 3 Pro is a more expensive machine ($1299 vs $999 for the MacBook Air) and has poorer battery life, which it trades for a much sharper display. So the choice between the two still isn't as immediate as Microsoft would like it to appear.
What's also interesting is that Microsoft skips its usual target - the iPad - focusing on Apple's best-selling laptop. As Cupertino's tablet sales are growing weaker, its presence in the personal computer market grows stronger. Thanks to surging Mac sales, the company reached the top five PC manufacturers roster for the first time. Obviously, Satya and the gang are watching closely.
In addition to the Yoga Pro 3, which is still, technically, more of an ultrabook than a tablet, Lenovo unveiled the
Yoga Tablet 2
and Yoga Tablet 2 Pro. The latter is the
first tablet to have a built-in Pico projector
, in addition to a very crisp screen, Intel hardware, and an elaborate sound system.