The LG G4's battery recharges 23% faster with a QuickCharge 2.0 charger... or a Samsung rapid charger
27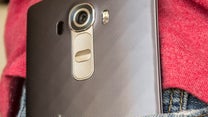 Although LG didn't mention it at the time of the phone's official announcement, the
LG G4
does support
Quick Charge 2.0
. This was confirmed by both Qualcomm – the company behind the innovative tech – and LG several days after the phone's unveiling. But there's a catch. While the phone itself is compatible with Qualcomm's rapid charging technology, its stock charger is not. That's why the LG G4 requires a whopping 127 minutes to have its 3000mAh battery recharged from zero to full. And ain't nobody got time for that.
So, what happens if a Quick Charge 2.0 charger is plugged into the LG G4 instead of the phone's stock one? Well, that's the question we wanted to answer, so we drained the G4's battery and then recharged it using a QC2.0-enabled Motorola Turbo charger. It recharged our LG G4 in 98 minutes, which was an improvement of 23% over the phone's stock charger. In this scenario, the first 10 minutes of charging gave us 15% of battery juice, and after 30 minutes of charging, the battery level indicator was reading 39%. The charging process went at a steady, linear pace until we reached a battery level of 85% in 1 hour and 9 minutes. Around that point, the charging rate dropped – the battery was being slowly topped off.
Out of curiosity, we drained the LG G4's battery again and then recharged it using the Rapid Charger included with the Samsung Galaxy S6. Mind you, Samsung isn't promoting its charger as QC2.0 compatible, yet in the case with the LG G4, it does the trick. In fact, the results were identical – the G4's battery was fully recharged in 99 minutes.
What's worth mentioning is that both the Motorola Turbo charger and Samsung's Rapid Charger have a maximum output power of 15 watts. Yet some third-party Quick Charge 2.0 chargers deliver up to 18 watts of power, which may allow them to recharge the LG G4 even faster. Having said that, you might consider investing in a powerful QC2.0 charger if you feel like your LG G4 isn't charging fast enough. Here's our selection of the
best Quick Charge 2.0 chargers
you can find on the market.