The IUNI U2 is a monster from Asia with an aluminum body, premium specs, and outrageous price
24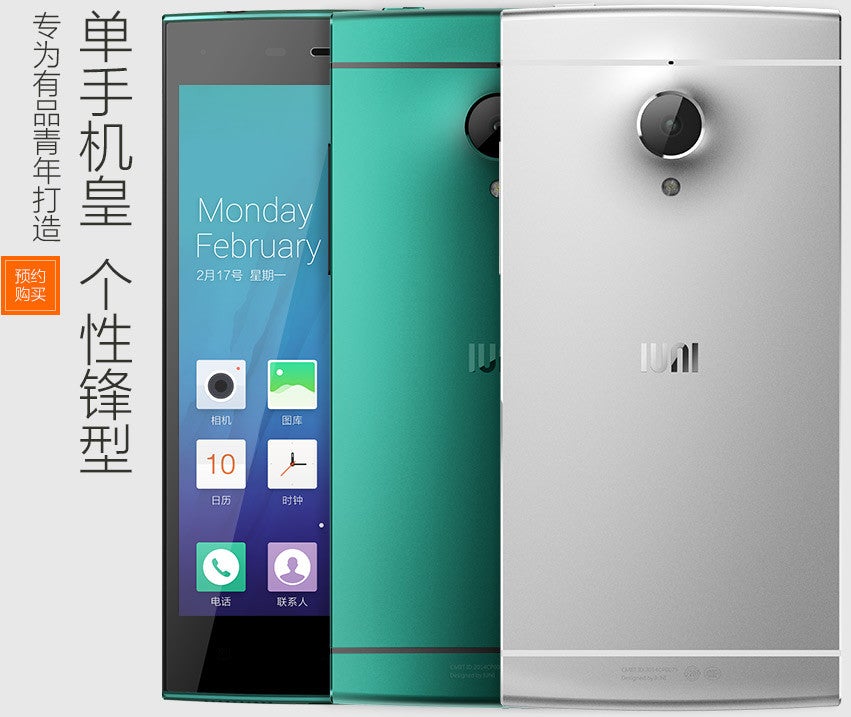 IUNI, a spin-off brand of China'sGionee (known for making the current
world's thinnest smartphone
), ispreparing a very interesting handset. Elegant on the outside, theIUNI U2 is a beast with a 2.2 GHz Snapdragon 800 CPU, 3GB RAM, and a4.7-inch 1080p display with a pixel density of 469PPI inside. Butthat's not all. Reportedly, IUNI wanted to make the bestsingle-handed metal-clad phone possible, so it machined a 0.4 inch(10.2mm) thick body that's 2.56 inches (65mm) wide and 5.38 inches(136.9mm) tall. There is a 10-degree fold at the phone's top andbottom, and the chamfer has a shiny "3D polish". The phonedefinitely looks ergonomic and probably feels just fine in the hand,not to mention that the overall design evokes the HTC One - a phonethat even Apple was impressed with. But producing this carefullysculpted aluminum shell does have a price – it takes 90 minutes,and the current yeld is only 48%.
Speaking of HTC's last year flagship,you know that its UltraPixel rear camera is both a notable andcontroversial feature. Like them or not, the UltraPixels are headingfor a return in the IUNI U2's front camera, which is exactly the sameas the HTC One's rear shooter. Looking at the front cameracomparisons which IUNI posted, it could turn out that the ultrapixelshave a previously unsuspected potential for "selfie"-taking.As for the rear camera, the IUNI U2 is wheeling in the heavyartillery - it's the 16MP, 1.34µm sensor seen in the Gionee ElifeE7. You will have to forgive it for causing a visible bulge to theU2's otherwise elegant back panel.
We do live in interesting times
So, how much for this beauty? Prepareto be pleasantly shocked. The 32GB version with 3GB RAM will costonly $320, while the 16GB version with 2GB RAM will be $290. Thepricing is absolutely outrageous, as it basically sells a premiumsmartphone at a price lower than mid-range. But if you are in China,and desperate to compete with Xiaomi, it's what you got to do to stayafloat.
The smartphone is currently onpre-order for Chinese customers, who can make a deposit for the 32GBversion. As it's mostly the case with these beautiful Asian monsters,there's no information about the IUNI U2's global availability.However, the phone is making a statement - as low-cost Chinesevendors have already secured premium hardware, they are turning theireyes to competing with design as well. As the old Chinese sayinggoes, we do live in interesting times.
via Engadget